Invitation to the Digital Innovation Dialogue: Session 8 Farmer Digital Identity and Data Ownership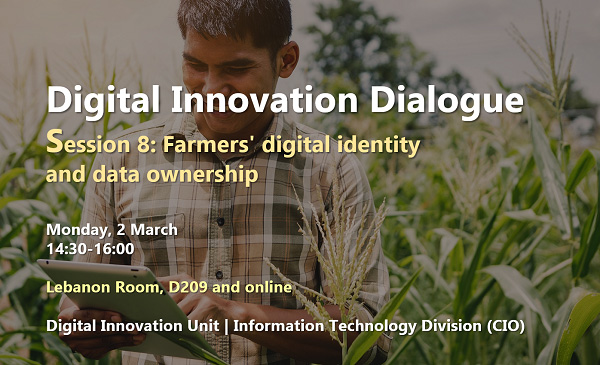 · 2nd March 2020 14:30-16:00 hours (Rome Time – CET) FAO HQ – Lebanon Room (D209)
· Remote participation: http://fao.adobeconnect.com/digital_innovation8/ [Reserve space]
· Web streaming: http://www.fao.org/webcast/home/en/item/5229/icode/
In 2019, CIO organized seven sessions of Digital Innovation Dialogue which saw more than 400 people participating. This 8th session is focusing on Farmer Digital Identity and Data Ownership and is the first Digital Innovation Dialogue in 2020. This Dialogue covers two important topics: (i) Farmer Digital Identity and (ii) Farmers' Data ownership, with a particular focus on smallholder farmers. Digital inclusion of farmers is a strong instrument to combat the 'digital divide' in agriculture and is poised to benefit rural farmers. Digital identity is a key pathway to financial inclusion, index based agriculture, markets and digital agricultural advisory services.
Farmer Digital Identity
Any attempt to apply digitization to agriculture will eventually raise the question on how to relate with the identity of the farmer. This Dialogue will first discuss the following questions:
· Why would we want to give all smallholder farmers a digital identity?
· What are the costs and benefits?
· Who would be the digital identity provider?
Data ownership
Social networks made mistakes by compromising the data of their users, this is an indication that there is still a long way to go in data ownership and data privacy. Certainly, we do not want to repeat the same mistakes in agriculture. We need to respect and protect the ownership of user's data. This starts with the identity data, followed by the farm business data.
This Dialogue will then discuss the following questions:
· How to understand data ownership in the agriculture sector?
· What is the value of this data?
· How to protect farmers' ownership over the data?
· How does blockchain fit into this context and what are the key legal challenges?
To answer those questions, FAO Information and Technology Division(CIO) welcomes you to join the 8th Digital Innovation Dialogue on Farmer Digital Identity and Data Ownership on Monday, 2 March 2020 from 14:30-16:00 hours in the Lebanon Room(D209)
As the seats are limited, and for those who wish to attend remotely, the event will be webcast at the link and remote participation is available here
Guest Speakers: Puvan Selvanathan is the Chief Executive at Bluenumber. He created Bluenumber so people can own their Digital Identity and have Data Rights. He was formerly a UN Special Mandate Holder on Business and Human Rights appointed by the UN Human Rights Council (Geneva), Head of Food & Agriculture at the UN Global Compact Office (New York), and then Head (New York Office) of the International Trade Centre, a joint agency of the UN and WTO. Before joining the UN, Puvan was Group Chief Sustainability Officer at Sime Darby, a Malaysian diversified conglomerate. An Architect by profession, Puvan holds an MBA and a DBA in Corporate Strategy and Sustainability.
Imma Subirats-Coll is working as an information management officer in FAO since 2006. Apart from her extensive experience in developing capacities to data managers and data consumers, an important part of her portfolio is dedicated to providing support to organizations, at international, regional and national scale, in the production, management and exchange of data on agriculture. She leads the AGROVOC, AGRIS andAGORA programmes with the objective to enhance accessibility and visibility of knowledge, information and data produced by FAO member states. She is primarily responsible for the development and delivery of online training courses, along with face-to-face training programmes on scientific information and digital data management. She represents FAO in several global research data initiatives, including serving as the co-chair of the Interest Group on Agricultural Data at the Research Data Alliance (RDA).
Erik van Ingen is a Blockchain and Data Analytics Specialist in FAO. Erik started his blockchain work in 2018, with experiments for blockchain for pastoralism in Niger. Before his blockchain work, he worked on Machine Learning and Big Data Agriculture projects like Rift Valley Fever, Greenhouse Gasses, Project Risk Prediction and Climate. Erik works as the blockchain focal point for FAO's IT division in the digital innovation team and he helps projects with blockchain for climate and supply value chain. In parallel, he works on the Hand in Hand initiative to ensure the linkage of blockchain with big data in agriculture.
Digital Innovation Dialogue was launched in early 2019 by CIO to serve as a forum to enhance knowledge sharing and mutual learning between multidisciplinary innovation practitioners and FAO staff through open and informal discussions. The previous Digital Innovation Dialogue sessions have included workshops with Alibaba Cloud, IBM's The Weather Company, ESRI, National Telecommunication Agency in Brazil, Gartner, the Ministry of Agriculture and Rural Affairs of China, and blockchain startups. Topics include Digital Intelligence Platform, AI Products, Blockchain and Geospatial Technology for Agriculture, Gender Equality in Digital Transformation and China's Experiences in Digital Agriculture and Digital Rural Area. The Dialogue has hosted more than 400 participants on site and online.

return
© 2020 Zhejiang University