Digital Agriculture Forum 2022: successfully held virtually in Dec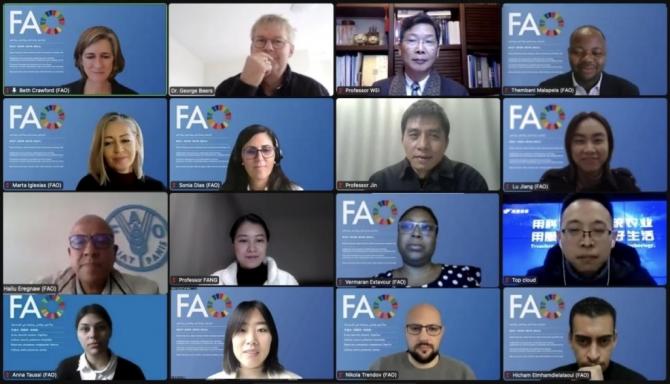 The First Global Event of Flexible Voluntary Contribution (FVC) Digital Agriculture Innovation Hubs Project accelerates the upscaling of innovation through sharing of knowledge and global experiences
09.12.2022. Rome. The Flexible Voluntary Contribution (FVC) sub-programme on Global Network Digital Agriculture Innovation Hubs held its first global event aimed at sharing knowledge and experiences from four implementing countries and from Wageningen University's SmartAgriHub project. This FVC event was a panel session at the Digital Agriculture Forum (DAF) 2022 with the participation of the country focal persons from the implementations in four countries.
The event, as a part of DAF series, was held to enhance experience exchange in digital agriculture among different stakeholders worldwide. Being the third edition of the series, DAF 2022, co-hosted by FAO and Zhejiang University, marked the first global event where the four countries shared their experiences in implementing their respective innovation hubs.
The theme of the Digital Agriculture Forum 2022 was "Enabling Digital Transformation in Agriculture with Emerging Technologies". The focus was on showcasing good and promising practices for applying emerging technologies in agriculture, exploring how rural farmers and value chain actors can benefit from adoption of digital technologies, and how digital innovation can foster rural transformation and address the critical challenges in agrifood sector. The event brought high-level dialogue for policymakers, provided evidence for decision-making in the digital agriculture field and called for attention on the inclusiveness of digital agriculture. DAF 2022 was joined by over 200 attendees from 39 countries. and gathered representatives and experts from public agencies, research institutions, as well as international organizations to share their experiences of promoting digital agriculture to fight hunger and poverty.
The first session on the Global Network of Digital Agriculture Innovation Hubs, aimed to facilitate knowledge sharing and dialogue on digital agriculture and innovation hubs in the areas of policy-making, digital agriculture solutions, innovations and enhance sharing of implementation experiences across hubs in the network. The panel session marked an opportunity for sharing experiences from the Innovation Hubs in Ethiopia, Morocco, Dominica, and Grenada. Through these hubs, FAO Office of Innovation supports countries to inculcate an innovation spirit focusing on youths and women in agriculture, through various in-country innovation activities. The panel session also learned from Wageningen University's SmartAgriHub, a pacesetter in Innovation Hubs and networks. The project serves as a catalyst for game-changing innovations in smart farming techniques by building an ecosystem of start-ups, SMEs, business and service providers, technology experts and end-users.
The second panel session chaired by Zhejiang University focused on experiences from the private sector, especially the application of emerging technologies in agriculture and rural development, including intelligent sensors on the farm, TikTok e-commerce in China, and rural youth entrepreneurship in Taobao Village.
Zhejiang TOP Cloud-agri has enabled modern agricultural production by using intelligent sensor technology. Centering on sensor sensing technology, spectral sensing technology, and AI identification technology of diseases and pests, it has realized the real landing from "perception data" to "production value".
As Professor Lu Fang from Zhejiang University presented, Taobao Village is China's as well as the world's first innovative model of rural e-commerce. It improves the integration of industrial chain in rural areas, creates more employment opportunities in rural areas and is a sustainable and self-driven way of poverty alleviation.
"More than half of the merchants believe that the preparation of sales in live streaming and short video e-commerce will be greatly increased in the future. So I believe the potential is huge." -- Professor Longbao Wei, Director of Food and Agribusiness Institute, Zhejiang University
Smart agriculture and digitalization have a crucial role in ensuring food security and nutrition for all by raising efficiency across the food value chain, making agriculture more productive and sustainable.
"In these times of crises and uncertainty, innovation, digitalization and entrepreneurship become more and more crucial to transform the agrifood sector to achieve the SDGs." -- Beth Crawford, Officer-in-Charge Director, Office of Innovation, FAO
About DAF
FAO and Zhejiang University (ZJU) have since 2019 made joint efforts in organizing a series of annual events, joint publications, and innovative events to support the digital transformation of the agrifood sector for the benefit of rural farmers, agri-tech start-ups, and young entrepreneurs. Among these is the Digital Agriculture Forum (DAF), an annual event co-organized by FAO and ZJU to host policy and technical discussions and to share knowledge and good practices in the area of digital agriculture and digital innovation. FAO, ZJU, and other partners are actively working towards fostering knowledge and global experiences to accelerate the upscale of innovations, technologies, and digital agriculture solutions for better production, better nutrition, a better environment, and a better life for all, leaving no one behind.

return
© 2020 Zhejiang University