FAO hosts Digital Innovation Dialogue on blockchain for sustainability in agriculture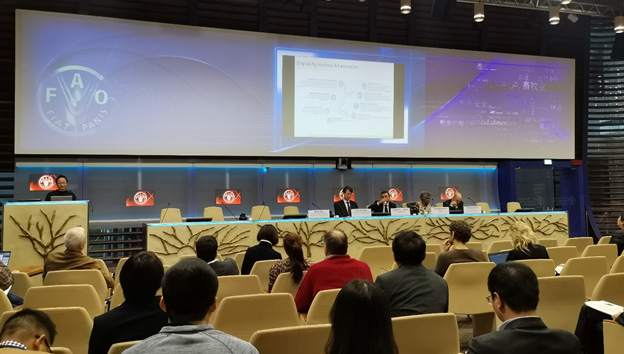 Rome. 10 December 2019. The IT Division in FAO hosted the Digital Innovation Dialogue session on blockchain for sustainability in agriculture where Foodcoin, AgriLedger, Ripe and FAO presented their blockchain projects.
The session was held amidst many blockchain-based solutions, which are being piloted in many sectors, and this technology is finding innovative uses in a wide range of applications.
In agriculture, pilots are already being implemented in supply chains, land registrations and to provide digital identities for farmers. For sustainable agriculture development, blockchain technology holds the potential to positively address key challenges such as deforestation, value distribution and traceability, food safety and production as well as tracking child labour use in agriculture.
The dialogue was opened by Ms. Meng Zeng, Team Lead of Digital Agriculture at FAO. Digital Innovation Dialogue was launched by CIO in early 2019 and today marked the last Dialogue of the year. Ms. Meng Zeng retraced the seven sessions of Digital Innovation Dialogue which were organized throughout the year. She also gave a brief introduction of the Digital Innovation Unit, which she is leading, which coordinate and fosters Digital Innovation culture at FAO.
The Founder and CEO of FOODCOIN, Mr. Gregory Arzumanian, shared his vision of the process of digitalization in the world of agriculture. He described the possible benefits of blockchain technology provided by FOODCOIN for both small farmers and large consortiums in agricultural value chains, food fraud and counterfeiting protection, and traceability of their supply chains. In addition, Gregory shared his opinion on how blockchain can be useful to developing countries.
Ms. Genevieve Leveille, Founder of AgriLedger talked about technology monitoring, food safety and sustainability data. She started by introducing the state of food security in the world, as well as the frustrations felt by smallholder producers. "Production, Delivery and sale are the three areas that vital to the smallholder farmers. Blockchain will be transforming these areas", emphasized by Ms. Genevieve Leveille.
Meanwhile, Mr. Riccardo Accola, Director of Digital Food Science at Ripe.io showcased how a blockchain-based platform can be used as a single trusted source of records, able to track the Origin and Journey of food, and most importantly to measure and quantify the quality and sustainability of the entire agri-food value chain.
This Dialogue was chaired by Mr. Erik van Ingen, Blockchain and Data Analytics Specialist of CIO Division. He also shared a case study of blockchain for cocoa in Ghana, and introduced what makes blockchain an impactful and effective intervention. In the end, a FAO blockchain road map was presented to the audience.
The presentations were followed by a Q&A session. Questions from both the room and online were discussed. The discussion ranged from the carbon print of blockchain, to how blockchain can solve food waste and loss problems.
About FAO Digital Innovation Dialogue
Digital Innovation Dialogue was launched by CIO in early 2019. It aims to serve as a forum to enhance knowledge sharing between innovation practitioners and FAO colleagues through open and informal discussions. The previous Digital Innovation Dialogue has included workshops with Alibaba Cloud, IBM's The Weather Company, ESRI, National Telecommunication Agency in Brazil, Gartner, and the Ministry of Agriculture and Rural Affairs of China.
Topics include Digital Intelligence Platform, AI Products and Geospatial Technology for Agriculture, Gender Equality in Digital Transformation and China's Experiences in Digital Agriculture and Digital Rural Area. So far the Dialogue has hosted more than 400 participants on site and online.
More information about the Digital Innovation Dialogue, please contact digital-innovation@fao.org
Presentations
Blockchain for sustainable agriculture
,
Gregory Arzumanian
, Founder and CEO, FoodCoin
Technology monitoring, food safety and sustainability data
,
Genevieve Leveille
, Founder, AgriLedger
Blockchain-based platform as trusted source of records
,
Riccardo Accola
, Director of Digital Food Science, Ripe.io
Cocoa blockchain in Ghana
,
Erik van Ingen
, Blockchain and Data Analytics Specialist, IT Division, FAO

return
© 2020 Zhejiang University