Bootcamp Highlight
The first Digital Agriculture Bootcamp has concluded successfully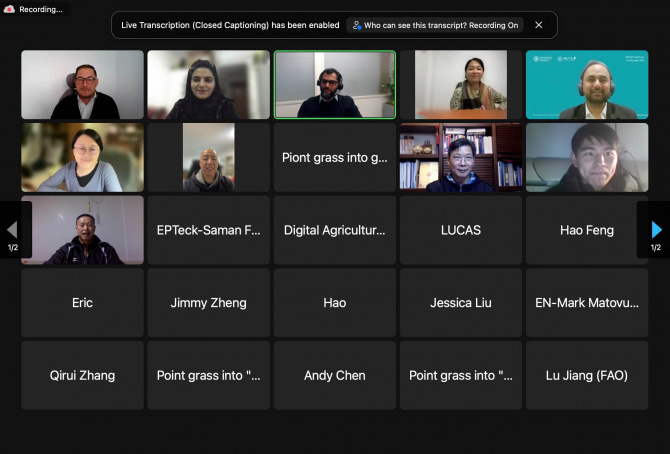 Background
Aiming to foster an enabling ecosystem to empower youth individuals/organizations in digitalization, entrepreneurship, and leadership to transform agri-food systems and digital villages, Global AgriInno Challenge has been co-organized by FAO and Zhejiang University. The objective of the proposed activity – Digital Agriculture Bootcamp was to systematically cultivate top winners from the Global AgriInno Challenge 2020 and 2021 with digital, entrepreneurial, and innovative capabilities to learn, share and use digital innovation solutions to develop and implement tailor-made, efficient, and effective programs, policies, and strategies.
Review of Digital Agriculture Bootcamp
The Digital Agriculture Bootcamp was co-organized by Zhejiang University and FAO. "The main purpose of our digital agriculture bootcamp is to enhance the digital agriculture innovation and entrepreneurship ability of young leaders, to share the dividends of high-quality development through the integration of the whole industrial chain of digital enabling agriculture through innovative digital agriculture solutions and business models, to deal with the leap-forward battle of insufficient agricultural production factors, low production efficiency and poor market trading. To better address low rural incomes, food shortages, food security, gender equality, rural poverty and other related issues," said Professor Wei Longbao, Director of Food and Agribusiness Management Institute at Zhejiang University at the opening ceremony.
Digital Agriculture Bootcamp was held from 1st to 7th December 2022. At the Bootcamp, participants (winner teams) learned how to develop their digital innovation solutions through an innovative approach that has foundational modules, such as Industry, Consumer/Product and Business Models, Team building, Investment and Financing, and Peer Advisory Board consisting of innovation thinking tools that include step-by-step guidance, worksheets, case studies, and references. Participants also learned the opportunities, challenges, risks, and benefits of digital agriculture transformation is experiencing and how to better develop their digital innovation solutions.
Courses that were included in the one-week session were Introduction of digital agriculture/digital village; Introduction of sustainable development goals & strategic innovation approaches; Theory of Change; Empathy Map; Business model Canvas & Lean Canvas; Value Chain mapping; Strategies and policies for the digital transformation of agriculture and rural areas; Innovation and application of digital agricultural technology; Get to know yourself and team using MBTI; Seminar on Personal Initiative; Best practice Sharing: Cases from leading Chinese agriculture/digital related companies; Pitch skills-the 8-minute investor pitch; Financing Strategy; Storytelling session & Coaching session; Product Presentation & Roadshow. See the agenda and course here.
To provide an opportunity for the participating teams of showcasing and verifying their solutions in the real market, a roadshow session was designed where the teams were able to pitch in front of investors from famous investment institutions including ADB Ventures and Green Leaf Ventures. Each startup team had in-depth discussions with experts on different issues and obtained interest from the investor. After successful training and coaching, Digital Agriculture Bootcamp smoothly and successfully wrapped up.
© 2020 Zhejiang University