To watch the Pitch Event of the Global AgriInno Challenge 2022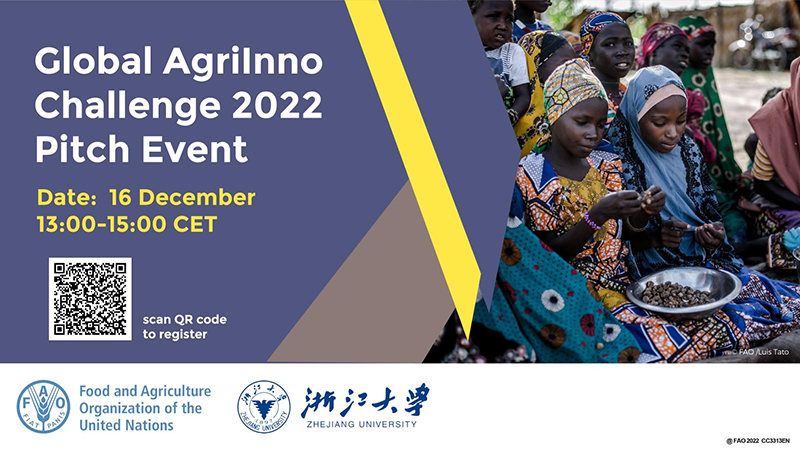 16 December Friday | 13:00-15:00 CET 20:00-22:00 Beijing Time
The Global AgriInno Challenge 2022, co-organized by FAO and Zhejiang University, encourages youth and women to harness innovation, entrepreneurship, and technologies to address challenges related to agrifood transformation.
The youth led-innovation solutions are selected for their standout entrepreneurship and promising potential for a positive impact on agrifood systems contributing to the Four Betters: better production, better nutrition, a better environment and a better life.
This year there are eight youth-led innovation solutions selected out of 98 applications from 20 countries. The final teams pitch their solutions online to worldwide judges and audiences on 16 December 2022.
Agenda
Pitch Event | 16th Dec. 2022, Friday

13:00 - 13:10 (CET)

20:00 - 20:10 (Beijing time)

Welcome speech

· Introduction

· Welcome speech

Facilitator:

· Thembani Malapela, Knowledge/Information Officer, Office of Innovation, FAO

Welcome speech:

· Zhiping Li, Deputy Director General. Foreign Economic Cooperation Center, Ministry of Agriculture and Rural Affairs, China (tbc)

· Lianzhen He, Vice President, Zhejiang University (tbc)

· Bingjun Liu, Deputy Mayor, Hangzhou Municipal Government, China (tbc)

13:10-14:30 (CET)

20:10-21:30 (Beijing Time)

Pitch

Pitching

· One team pitches the innovation solution (5 min)

· Q&A between judges and pitching team (5 min)

· *repeat the process with all eight champion teams

· Judging panel Chair

· Beth Crawford, Director of Office of Innovation, FAO

· Judges

· Professor Longbao Wei, Director, Institute of Food and Agribusiness Management, Zhejiang University

· Walter Ge, Founding Partner, Green Leaf Venture

· Guanxi Wu, Burea of Agriculture and Rural Affairs of Hangzhou, China

· Erik Vanlngen, Digital Agriculture and Innovation Specialist, Office of Innovation, FAO

14:30-14:50 (CET)

21:30-21:50 (Beijing Time)

Keynote speech

Youth Voice | Jury meeting to decide winner team

· GAC 2021 - First prize: Grow For Me from Ghana

· GAC 2020 - Second prize: the "Digital Beekeeping Project" of the Tianfu Fenggu Team from China

14:50-15:00 (CET)

21:50-22:00 (Beijing Time)

Awards ceremony

Winner announcement and Closing speech

Judging panel Chair

· Beth Crawford, Director of Office of Innovation, FAO

return
© 2020 Zhejiang University