Invitation - Digital Innovation Dialogue on Blockchain for Sustainability in Agriculture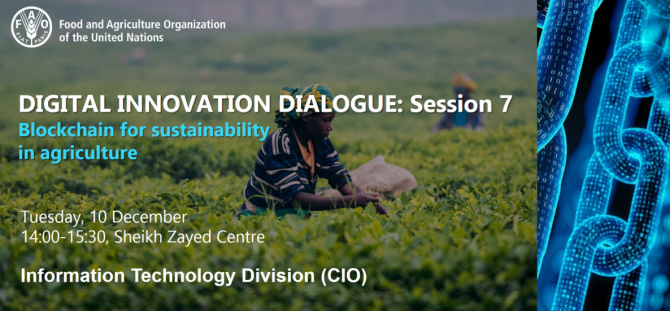 INVITATION TO DIGITAL INNOVATION DIALOGUE: Session 7
Blockchain for Sustainability in Agriculture

10 December 2019, 14:00-15:30– Sheikh Zayed Centre, FAO Headquarter

Remote Participation http://fao.adobeconnect.com/digital_blockchain/

Webcast address http://www.fao.org/webcast/home/en/item/5184/icode/

Blockchain-based solutions to existing challenges are being piloted in many sectors and this technology is finding innovative uses in a wide range of applications. In agriculture, pilots are already being implemented in supply chains, land registrations and to provide digital identities for farmers.
For sustainable agriculture development, Blockchain technology holds the potential to positively address key challenges such as deforestation, value distribution and traceability, food safety and production as well as child labor. Blockchain promises traceability, transparency, security, immutability, decentralization and disintermediation.
This Digital Innovation Dialogue will address the opportunities and challenges of using blockchain-based systems in agriculture, focusing the discussion around the following key questions:
What challenges in agriculture would benefit from a blockchain-based solution?

What are the pros and cons in agriculture of using a public blockchain vs a private blockchain?

Which processes in agriculture are suffering from a lack of transparency and would benefit from decentralization?

How are the successful use cases addressing broader issues such as regulatory requirements, stakeholders, legal frameworks, interoperability with existing systems, scale, etc.?
To answer these questions, FAO Information and Technology Division (CIO) welcomes you to join the 7th Digital Innovation Dialogue on Blockchain for Sustainability in Agriculture on Tuesday, 10 December 2019 from 14:00 to 15:30 hours, in the Lebanon Room.
Guest Speakers
Gregory Arzumanian is the Founder & CEO of FOODCOIN GROUP AG. Co-founder of 1000EcoFarms. Serial Entrepreneur. Gregory is a past owner of several businesses focused on farm-to-table model researching and manufacturing hydroponic and aquaponics systems. Expert in equipment needed for hydroponic forage and microgreens growing. Gregory has long-established relationships with some of the largest agricultural research institutions in the Russian Federation.
Genevieve Leveille is the Principal Founder of AgriLedger, a FinTech venture aiming to empower agricultural producers by democratizing their access to financial services and improving the transparency of the supply chain. Genevieve is leading the collaboration of AgriLedger with the Haiti Ministry of Commerce and Industry and other local partner from ESIH for the delivery of a DLT Pilot sponsored by the World Bank. Genevieve has been named on the UK list of the top 100 BAME in technology of 2019 by the Financial Times.
Riccardo Accola is Director of Digital Food Science at Ripe.io. He is a neuroscientist by training, with expertise in flavor perception, and over 10 years spent in Innovation in the food and ingredient industry. In 2014, he launched his own consulting company, providing technical and business support to promising initiatives aimed at improving the future of food across the value chain, with a specific focus on ingredient innovation, quality and transparency. Riccardo joined ripe.io in May 2018, bringing his expertise in sensory science and in the ingredient supply chain as critical elements to implement the ambitious goals of ripe.io's blockchain of food, a platform for seed-to-fork digitization and transparency of the food value chain.
Erik van Ingen is a Blockchain and Data Analytics Specialist. Erik started his blockchain work in 2018, with experiments for blockchain for pastoralism in Niger. Before his blockchain work, he worked on Machine Learning and Big Data Agriculture projects like Rift Valley Fever, Green House Gasses, Project Risk Prediction and Climate. Erik works as the blockchain focal point for CIO in the digital innovation team. In parallel, Erik works with Ms. Dr. Lan Li from the FAO supply value chain group on blockchain for cocoa on Ghana.
Agenda
14:00-14:05: Welcome speech, Samuel Varas, Director, Information and Technology Division, FAO

14:05-14:15: Blockchain for sustainable agriculture, Gregory Arzumanian, Founder and CEO, FoodCoin

14:15-14:25:Technology monitoring, food safety and sustainability data, Genevieve Leveille, Founder, AgriLedger

14:25-14:35: Blockchain-based platform as trusted source of records, Riccardo Accola, Director of Digital Food Science, Ripe.io

14:35-14:50: Cocoa blockchain in Ghana, Erik van Ingen, Blockchain and Data Analytics Specialist, IT Division, FAO

14:50-15:25: Q&A Session

15:25-15:30: Way forward, Meng Zeng, Team Lead of Digital Agriculture, IT Division, FAO
ALL ARE INVITED TO ATTEND
---
Digital Innovation Dialogue was launched in early 2019 by CIO to serve as a forum to enhance knowledge sharing and mutual learning between multidisciplinary innovation practitioners and FAO staff through open and informal discussions. The previous Digital Innovation Dialogue sessions have included workshops with Alibaba Cloud, IBM's The Weather Company, ESRI, National Telecommunication Agency in Brazil, Gartner, and the Ministry of Agriculture and Rural Affairs of China. Topics include Digital Intelligence Platform, AI Products and Geospatial Technology for Agriculture, Gender Equality in Digital Transformation and China's Experiences in Digital Agriculture and Digital Rural Area. The Dialogue has hosted more than 200 participants on site and online.

return
© 2020 Zhejiang University