Experts
Arthur Genis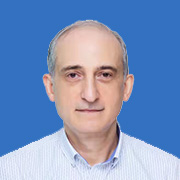 Chief Scientist
Top Cloud-agri Technology Co., Ltd., China
Arthur Genis from Israel.
Ph.D. in the Soil-Plant-Atmosphere Continuum in Ben Gurion University.
Professor of Anhui Agricultural University;
Scientisit of Katif Coastal Desert Development Research Center, Sedot Negev, Israel (2001-2016);
Chief Scientist of Zhejiang TOP Cloud-agri Technology Co., Ltd.
He has 20-year research experience in agriculture with the bias in irrigation engineering, and he is devoted to spreading the achievements of modern agricultural technologies and thinking ideas from Israel to China.

return
© 2020 Zhejiang University