The ´Digital agriculture report: Rural e-commerce development: Experience from China´ is officially launched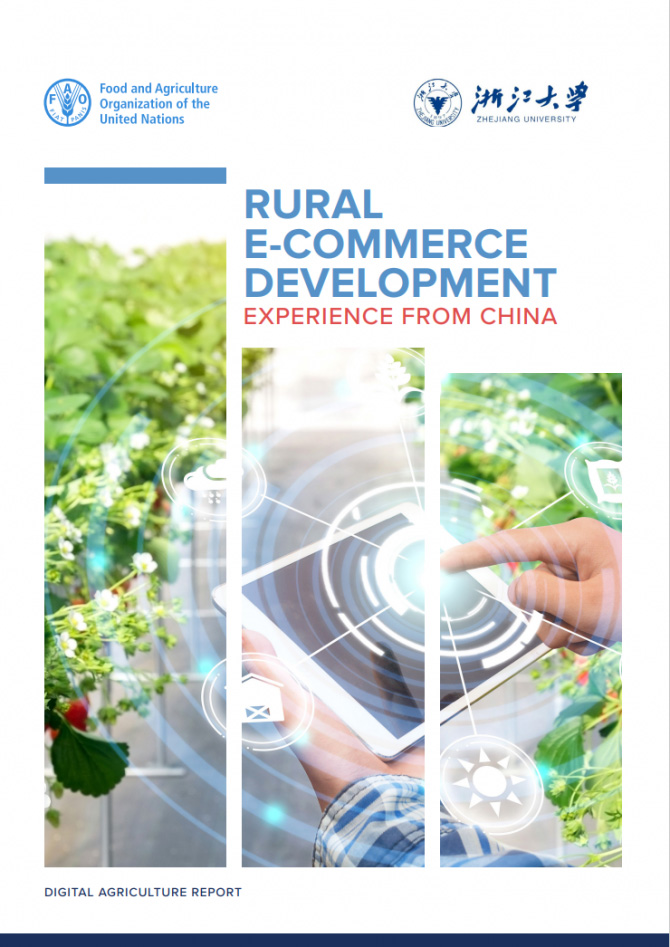 Firstly presented during the session on ´E-Commerce for Agriculture and Rural Development, which was held on the 7th of May 2021 in close collaboration with the International Telecommunication Union (ITU) and Zhejiang University under WSIS Action Line C7 on E-Agriculture and which topic this year focused on ´ICTs for Inclusive, Resilient and d Sustainable Societies and Economies, the 'Digital agriculture report: Rural e- commerce: experience from China´ has now been officially published.
This report is the fruit of the successful collaboration between FAO and Zhejiang University (ZJU) that since the signature of the memorandum of understanding in December 2019 has been consolidating through the last years with the organization of events such as the Digital Agriculture Forum and the Global AgriInno Challenge in December 2020 to enhance practice exchanges and knowledge sharing in the field of food and agriculture. The report is meant to be the first of an important annual series between FAO and ZJU, calling for more partners and collaboration. Its aim is to contribute further to the discussion on e-commerce for agriculture and rural development at the international community level.
´The Digital Agriculture report aims at improving methodologies, approaches and solutions to accelerate inclusive and sustainable development in rural communities for better production, better nutrition, a better environment, and a better life, leaving no one behind´ says FAO Director General QU Dongyu in its foreword, stressing the importance to develop a rural e-commerce that is inclusive, and generates economic, social and environmental benefits for all. ´This publication also marks a step on the pathway towards the FAO-led International Platform for Digital Food and Agriculture, the 1000 Digital Villages Initiative; and advocates for stronger South-South and Triangular Cooperation´ he adds, highlighting another crucial step in the organization´s common pathway towards ending poverty and hunger.
In both developed and developing countries and in both urban and rural settings – e-commerce has indeed been playing a significant role in driving consumption, employment, entrepreneurship and poverty alleviation that can help to accelerate inclusive and sustainable development in rural communities.
´China is leading the world in e-commerce, currently accounting for more than 42 percent of global e-commerce transactions and representing an annual growth rate of 50 percent since 2011´ explains Professor Longbao Wei, co leader of the publication. ´While in China we pursue a policy that consider e-commerce as an engine of growth, particularly in rural areas, we owe its success to the establishment of a truly enabling ecosystem that proves that digital technology through public-private partnerships can promote inclusive development and that online trading can become an important tool for poverty reduction and rural revitalization´ he adds.
The report shows how the development of rural e-commerce has transformed the agri-food systems in China, through the development of an innovative ecosystem that has led to market integration for agricultural producers and rural populations. It is illustrated with case studies in several regions of the country, that showcase improved incomes and a reduction of poverty for a wide range of actors. The report first identifies the policies and incentives developed to foster rural e-commerce, as well as the public-private partnerships that have helped to advance it in rural areas and to create new business models for rural entrepreneurs in China. In a second part, the report also discusses the challenges encountered, raised by the shift towards this pattern of business and consumption, the lessons learned and proposals for the way forward.
´The development of digital technologies is key to pilot, accelerate and scale innovative ideas with high potential for impact in food and agriculture´ says Dejan Jakovljevic, Director of the FAO Digitalization and Informatics Division. ´In FAO, we are deeply committed to transforming digital solutions and services into global public goods and the ecosystems development of electronic commerce, or e-commerce, can really help to accelerate inclusive and sustainable development in rural communities´.
E-commerce still needs to benefit from the right support, ideally from a blend of public-private actors and interventions, to provide a new tool for farmers and other agri-based enterprises. To overcome the challenges faced, the report finally shows that strong cooperation among multiple stakeholders, including government, the private sector and farmers, will be required.
´It is important to help farmers and other rural actors to realize the value of digital technologies, and to create an ecosystem that enables them to take part in innovative business models ´ adds Meng Zeng, Officer at FAO Office of Innovation.
Taking advantage of the multiple possibilities that e-commerce opens in that field could be a pathway to economic and social improvement and towards the creation of a momentum towards the achievement of the SDGs. But this is a task that requires the concerted collaboration and commitment of all. As rural e-commerce can be an important driver of this process of revitalization, it is hoped that the Digital agriculture report will contribute through the transformation of the agri-food sector to improving the lives of all in a wide range of key areas- economic, social and environmental, with a global impact.

Find the link to the publication here

Read more on the WSIS Forum launching session on ´E-Commerce for Agriculture and Rural Development´ here

For more information, contact digital-innovation@fao.org or digital_agriculture@zju.edu.cn

return
© 2020 Zhejiang University