Global AgriInno Challenge 2021:10 Selected Teams
The Global AgriInno Challenge 2021, jointly organized by the FAO and Zhejiang University, aims to encourage youth and women to harness innovation, entrepreneurship, and technologies to address challenges related to the transformation of rural villages into 'Digital Villages' while contributing to the Four Betters: better production, better nutrition, a better environment and a better life, while leaving no one behind.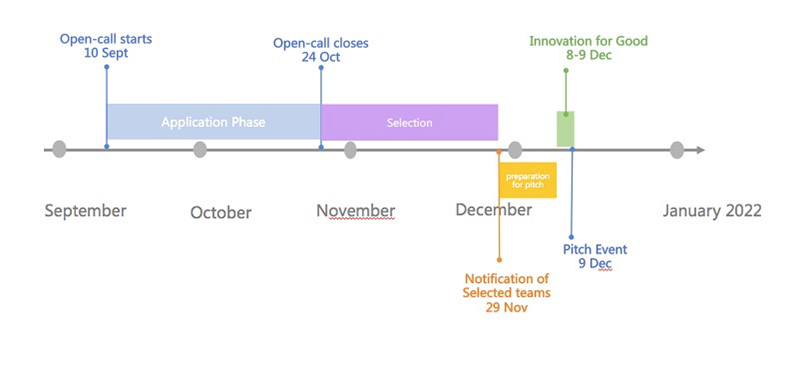 The Challenge is composed of a phase of preliminary competition. Followed by the Innovation for Good which consists of training modules online as well as brainstorming time and pitch practice, where the 10 finalist teams will have the opportunity to further develop their digital development solutions with the help of mentors and coaches from government, academia, research institutes, private sector and international organizations. Culminating with the Global AgriInno Pitch Event. Due to COVID-19, the Innovation for Good and Global AgriInno Pitch Event will be conducted online via Zoom. The winning teams will receive seed funding, and the opportunity to participate in a Digital Agriculture Bootcamp in 2022.
On December 8-9, 2021, 10 selected teams from UK, Ghana, China, Germany, Uganda, Trinidad and Tobago and Canada will attend the 36-hour "Innovation for Good" online training, where they will be brainstorming and co-creating with mentors, coaches and amongst themselves. the teams will finally pitch their solutions online in front of international judges from FAO, UNWTO, ITU, the Ministry of Agriculture and Rural Affairs of China, Zhejiang University, Pinduoduo, and a global audience.
Come and join us in during our live pitch event where the selected teams will address the challenges inherent in the process of digital transformation of agri-food systems together. register now
The following is the information of the 10 shortlisted teams:
056 Universal Versatile Society (UVS)
The team proposed to develop a marketplace to narrow the gap between producers and consumers in cities with management of optimal balance between profits, stakeholder benefits and environmental concerns.
Under this circumstance, the Big-Data analysis systems behind the marketplace (data sourced from the UN and other credible data management platforms) analyse the environmental and economical data such as climate conditions and weather figures to offer demanded products and prices of products. According to the data, the marketplace will generate insights into "what to plant" for producers, leading to production growth, increase in market share and further stabilisation of the agricultural economy.  
Moreover, farmers will use educational media and forums to enhance their abilities and provide them with the necessary knowledge such as good farming methods to reduce foul practices that damage the environment, influence the land fertility as well as overall agricultural production capacity. The Marketplace uses assembled GPS data of producers and gives localised recommendations to consumers to find the fresh organic produce nearby.
https://pan.baidu.com/s/1iv-q1zNAg12oyWGOY_sDdQ
password: h873
020 Point grass into "gold"—Comprehensive Poverty Alleviation Project for the Transformation of Straw and Feedstuffs
Tianyuan Jinjuncao uses cotton stalks, corn stalks, beet processing by-products, and grape processing by-products as its main raw materials, and is subjected to microbial fermentation treatment through special low-temperature resistant composite bacteria. The free gossypol content in its products is far lower than the amount of direct use of cotton stalks for feeding, and it is also far lower than other products on the market that use cotton stalks for fermentation. Through a large amount of straw that was originally used for incineration micro-storage fermentation is carried out to prepare high-quality forage for cattle and sheep breeding. This forms an animal husbandry circulating forage production chain that combines planting and breeding which not only solves the problem of lack of forage for the development of animal husbandry in some areas, but also It solves the environmental governance problem caused by the burning of a large amount of straw. This is also in line with the concept of the United Nations' Sustainable Development Goals.
https://v.youku.com/v_show/id_XNTgxMjEwOTU1Mg==.html
057 EPTeck Technologies
RemoteWell is an Internet of Things (IoT) based smart and modern solution for controlling and monitoring the electric tube wells with the help of a smartphone application and web dashboard. The product aims to improve the irrigation system by automating the switching process of tube wells that are often located at long distances from each other; requiring an on-site person to operate it. RemoteWell enables the person operating it to control the need for irrigation and fertilizer thus controlling consumption according to real-time demand by utilizing the sensors deployed across the field. This provides farmers with detailed information about variables such as the amount of water pumped, level of water tank gate, acidity, humidity, and soil temperature. Weather patterns for the coming days can be predicted with on-site sensors so that, if necessary, measures can be taken on the time and amount of water needed for the crops. This solution rectifies the major problems faced by farmers in agricultural processes like motor fault protection such as phase failure, motor overloading, and tripping. Moreover, it notifies the farmer in real-time which ensures the safety of appliances along with human lives. With this precision farming, the resource and cost-efficiency of a farm increase drastically.
https://www.youtube.com/watch?v=Gnz_KYPkAgM
015 Aquatic Super Brain
Aquatic Super Brain dubbed as AquaMind is aimed to uplift the aquaculture industry to a new level by introducing enabling technologies such as internet of things (IoT) and artificial intelligence (AI).
The AquaMind resembles the three human senses: sight, hearing and taste. They are achieved with underwater cameras, hydrophones and a series of chemical sensors. The collected data will then be transmitted to the "Cerebellum" (realized by the real-time cloud computing and/or edge computing) for immediate responses. The access to 4G/5G mobile data network acts like a nerve system that relays the data to the "Cerebrum" which exists in our remote server running deep learning algorithms to optimize and improve procedures in aquaculture, such as feeding and health monitoring. AquaMind as a whole is a multidimensional perceptive and intelligent solution for aquaculture. In addition, the platform can be equipped with automatic feeding module, intelligent fishing module, and aquaculture wastewater circulation treating module, which makes it a promising highly automatic self-sustained system for the future industrial aquaculture.
https://pan.baidu.com/s/1C2ofT8PYE7B3p6fPOomkbg
passwordf:j7rr
017 Low-Cost Automated Farm Weed Spotting
Low-Cost Automated Farm Weed Spotting proposes a fully automated software-based weed management solution (weed spotting) as the first step equipped with low-cost off-the-shelf drones. The solution includes two parts: a Mission Controller mobile application and an aero-Imagery Processor cloud platform.
The Mission Controller mobile app oversees and controls everything related to the drone, including route planning, optimal flight and camera parameter setting, flight and camera control, emergency landing and more.
The cloud-based aero-Imagery Processor platform can stitch drone images into a full picture of the aero-scouted area and then detect any suspicious weed that may harm crops using Machine Learning (ML) and Artificial Intelligence (AI) techniques.
Farmers will receive results with weed locations and species to guide further precise actions.
https://youtu.be/ZIjxJFJT3fc
131 Grow For Me
Grow For Me is an interconnected value chain financing platform, composed of Crowdfunding Platform, Crowd Farming Platform, Micro Aggregator Platform. Micro Aggregator Platform (MAP) provides micro-financing to aggregators in rural areas via mobile money to buy commodities directly from farmers in farming communities, normally cut off from major markets. Off-takers are updated on the progress of the aggregation process and the prices while providing the best quality commodities on the market via GCX warehousing Systems.
https://youtu.be/gmVDlU6HxTU
129 Fuju Agriculture
In response to the national "Rural revitalization" development strategy, Fuju Agriculture has successfully developed the industrial parks as the "regional core development engine" by integrating financial service, insurance service, supply chain, and market resource. This model will promote the balanced development of both production regions and consumption regions. In the next five years, the core concepts of Fuju Agriculture will be "Technology First", common prosperity of farmers, and intensive development driven by industrial parks. Fuju Agriculture will establish 20 core industrial parks, develop 4 million acres of highly productive aquaculture areas, and provide job opportunities for 30,000 households. It is expected that Fuju Agriculture will become a business group with 50 billion CNY output values, promoting the comprehensive upgrading of the aquaculture industry in China.
https://pan.baidu.com/s/19QskdvrFvLWvYRdJqx971w
password:nyy3
035 The case of digital agriculture in Longyou County, Zhejiang Province
Under the social background of ensuring food security across the country, the intelligent recognition model of ground features is constructed with data extracted from tools such as satellite remote sensing and drones. Through this model, we can find out the basis and real picture of "non-agriculturalization" and "non-grainization", in order to precisely implement policies, and completely eradicate the existing problems.
Driven by AI intelligent recognition, data models and algorithms, the solution complements each piece of arable land with digital data and technology, so as to automatically generate and intelligently propose fertilization, disease and insect pest control schemes. The goal is to empower each farmer to undertake scientific farming and increase profits.
Through the intelligent implementation of the benefit-farmers policy and one-click direct access to agricultural subsidies, agricultural experts can answer production problems online in real-time, and respond to the needs of services such as land transfer, agricultural machinery services, and temporary employment in a timely manner, which fully mobilizes the enthusiasm of farmers to grow grain.
Our aim is to build a "smart grain brain", in other words to create a set of practices and tools that will help farmers to "manage the field, grow grain well, and get rich". Our application can be replicated and promoted.
https://www.youtube.com/watch?v=KpMcNmNlhBc
019 Food Systems Game Changers Lab Cohort 8 Innovating Packaging.
The Food Systems Game Changers Lab is a global program to build a better food future, together. EAT, IDEO, Thought For Food, The Rockefeller Foundation, Forum for the Future, Meridian Institute, SecondMuse and Intention 2 Impact joined forces to support our ideas, enterprises and initiatives that have the potential to transform the world's food systems. The Food Systems Game Changers Lab is in support of the UN Food Systems Summit.  
They worked with game changers from every part of the world who have the ideas, initiatives, and innovations that can bring positive change to global food systems—and the passion, grit, collaborative spirit, and determination required to take their solutions forward in partnership with our solutions.
https://drive.google.com/file/d/1tEBl-d7nD0r8PUYwstvqK9Sk3FTN9PWC/view?usp=sharing
052 Tech4Agri 360
Tech4Agri seeks to succeed as a social enterprise in an environment that is riddled with corruption and what we islanders refer to as "small minded mentality" 
With limited exposure the solutions we creators are often misunderstood, yet we have an exceptional record with 10 years of experience at the local, regional and international level. Given the dire constraints made ever more present due to covid our higher level of skill is now a necessity.
Tech4Agri 360 is an immersive media series that features our food and agriculture sector from a STEM perspective. The series will be created using agri-journalism as a base, together with 360 degree video, to create a unique learning and visual experience.
The project provides a knowledge tool to support quality education delivery while simultaneously presenting the agri-sector and its STEM fields in a completely new light, transferring knowledge & empowering household food security.
https://www.youtube.com/watch?v=aYQ9wJMjNWY 

return
© 2020 Zhejiang University