FAO, ITU and Zhejiang University are joining forces at WSIS Forum 2021
We are happy to invite you to WSIS Action Line C7 E-Agriculture session titled "E-commerce for Agriculture and Rural Development" and launch of the 'Digital Agriculture Report', co-organized by FAO, ITU and Zhejiang University on Friday, 7 May 2021, 15:00-16:00 CET at the WSIS Forum 2021.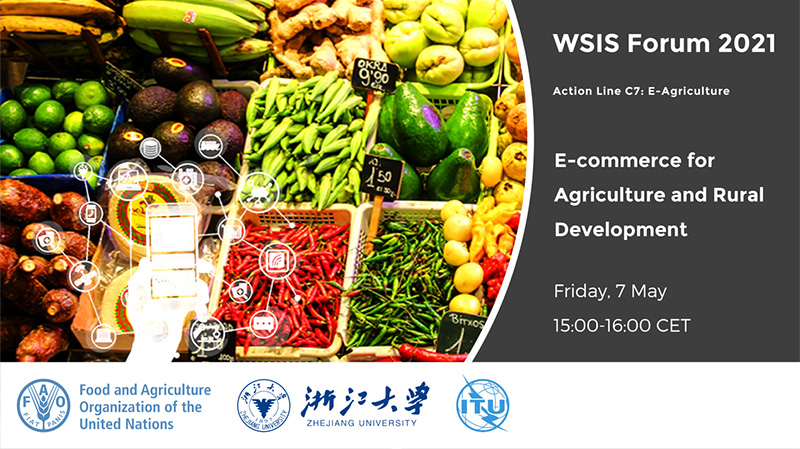 At this event, FAO and Zhejiang University will reinforce the WSIS Forum 2021 theme, ´ICTs for Inclusive, Resilient ad Sustainable Societies and Economies' by launching the Digital Agriculture Report which details experiences of successful business models and results of technology applications in the field of rural e-commerce in China. The event will also enhance knowledge and practice exchanges by fostering panel discussion in the field of rural e-commerce with a wide range of experts coming from various organizations, institutions, academics, and the private sector. The World Bank, ITU, Alibaba Group, Inter-American Development Bank, and Nampya Farmers Market (winner of the Global AgriInno Challenge 2020) are invited to share their views on this important topic.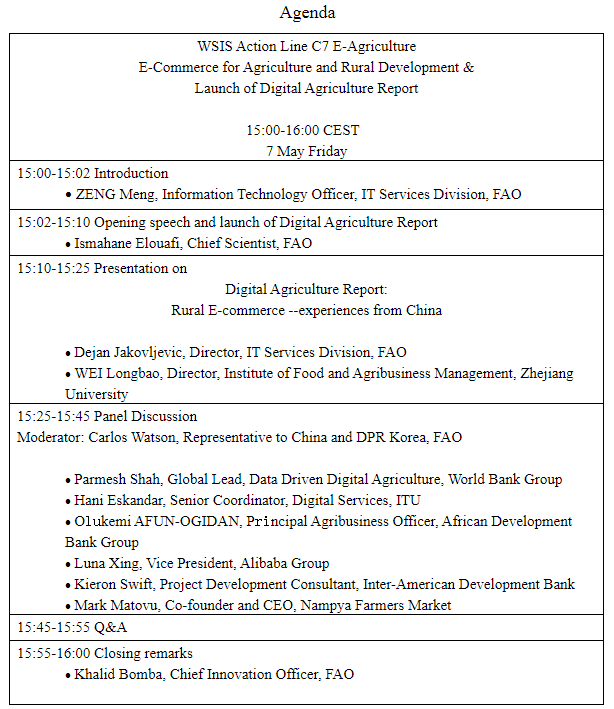 The World Summit on the Information Society (WSIS) Forum represents the world's largest annual gathering of the 'ICT for development' community. FAO has been facilitating WSIS Action Line C7 E-agriculture annually since 2005.
Register here to join us. 
Find more details about the event here.
For more information, contact lu.jiang@fao.org.

return
© 2020 Zhejiang University